MYSL wishes to extend its congratulations to the players and coaches, along with the entire Nationals Club, on an amazing achievement in our sport!  
Here are the highlights as reported by U.S. Youth Soccer.
Nationals Union (MI) was the lone club to capture two National Championships, as its 15U Girls and 16U Girls lifted trophies on Sunday July 30, 2017. The victories marked the third straight National title for several players on both teams who were members of the back-to-back champion PSG MI Gators 02 Orange (MI) in 2015 and 2016.
Nationals Union coach Jeremy Harkins said he was thrilled to have both teams who earned the chance to enjoy winning National Championships this year in Frisco.
"It's incredible. It's something you would dream of in the beginning of the season, but very rarely is it a reality," Harkins said about having two champion teams. "We're very excited and proud of the girls. It's so rare to get one. Most players — the best players in the world — will go their entire careers and not get one championship. For those players to get three is as close to a miracle as you can find."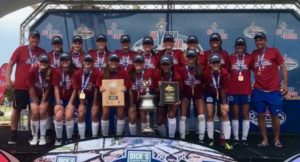 15U Girls final.
Several members of Nationals Union 02 Black (MI) lifted their third straight National Championship trophy on Sunday, as the Michigan side defeated CUP 02 Gold (OH-S), 2-1, in the 15U Girls: Nationals Union 02 Black (MI) 2–1 CUP 02 Gold (OH-S)
After a scoreless first half, CUP grabbed an advantage in the 42nd minute. A corner kick to the back post was punched out by Nationals Union keeper Gabriela Green, and Lauren Bastian hammered a half-volley in to put the Ohio South side in front.
Nationals Union equalized in the 53rd minute when Caitlin O'Malley sent in a cross from the right wing that floated to the back post, where Meike Ingles directed it in to level the score at 1-1. Emily Matthews, who earned Best XI honors while winning titles in 2015 and 2016, provided the game-winner later in the half. Matthews hit a left-footed strike from the top of the box that flew into the right upper-90 to put her side in front. Green denied U.S. Youth National Team forward Kailyn Dudukovich in the 72nd minute, as she pushed a shot just wide of the post, which sealed the 2-1 Nationals Union victory.
Nationals Union coach Jeremy Harkins said the players — several of whom captured their third straight title — managed to come up with the winning plays all season.
"It's amazing because of all the moments when you could have failed to get to this point — there's a full year of games to get here," Harkins said. "To be able to do it three times is more than historical, in my opinion. There are so many chances that you could fail, and yet these girls find a way to succeed every time."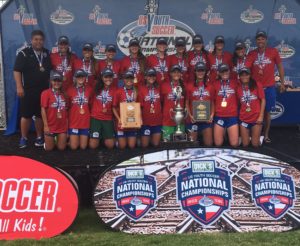 16U Girls final.
16U Girls: Nationals Union 01 Black (MI) 5-0 Legends FC 01 Academy (CA-S)
16U Girls Nationals
Union 01 Black (MI) became three-time National Champions after defeating Legends FC 01 Academy (CA-S), 5-0.
"The feeling is unbelievable especially for the girls because this is their third time winning the National Championships," Nationals Union coach Henry Steinwascher said. "They had a harder road to get here because they won State Cup and they had to go to Regionals, and they worked really hard at Regionals. The ultimate goal was to get back to the National Championships, and that's what they did. Their hard work paid off."
Nationals Union came out of the gates early as a combination play led to a cross from the right flank for Madison Medalle to head the ball in. The second goal came later in the first half as Morgan Reitano picked up a bouncing ball in the 18-yard box and put the ball in the back of the net with her right-footed shot.
Madison Medalle tallied two more goals within two minutes from each other in the second half to complete her hat trick. Medalle's second goal took place when Marcella Clark found her on the right side of the 18-yard box, allowing Medalle to slip the ball past the goalkeeper. Nationals Union's fourth goal came as Medalle tackled a Legends defender, where Paige Webber then took the ball, drew the keeper out and played for Medalle to bury into the net. Nationals Union topped off the win with a Webber goal as her shot from 20-yards out sailed just under the crossbar.