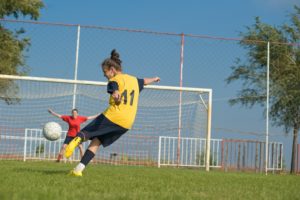 STERLING HEIGHTS — Sterling Heights resident Kristin Boos has a dream to play professional soccer, and that could become a reality.
Next month, she heads across the pond for a tryout with a professional club.
Boos, who has played for United FC-Michigan for six years, will work out Aug. 9-20 with the Tottenham Hotspurs ladies team, of the English Football Association Women's Super League — the highest league in England.
Boos, who plays midfield and forward, received a personal invitation from Hotspurs coach Karen Hills to try out for the team.
Boos will also work out with the Hotspurs U-18 academy team and compete in a regional talent center tryout. The Sterling Heights resident could also possibly train with the West Ham or Arsenal ladies professional teams.
At 15, Boos will be the youngest player at the camp by at least three years.
"I'm really confident in myself and blessed to have this ability," said Boos, who is homeschooled. "God gave it to me, and I'm confident in what I have. I just go out and play soccer because that's what I love to do."
Boos has played soccer since she was 2 years old. Her five siblings and her father, Tony, all play and love the game. Soccer is the only sport Boos participates in, and that focus is paying off.
"It's definitely a huge opportunity," Boos said. "Everybody is very excited."
Along with her skills, relationships played a part in getting Boos the tryout.
United FC-Michigan owners Andy Chapman and Ian Fairbrother both played soccer professionally in the United States and England and have the connections that helped Boos get the tryout.
"People have been very generous to make this work," Boos said.
This will be her first trip to Europe. She's unsure if she'll do any sightseeing since the tryout will take up so much of her time. She's hopeful to see some of the area toward the end of her stay.
United FC-Michigan coach Jake Zammit called Boos a special player. He's coached her since she was 10.
"She's capable of beating her opponent in so many different ways," said Zammit. "She is extremely skilled and creative on the ball, but it is her vision and the way she reads the game that truly sets her apart. I am thrilled to watch her have this incredible opportunity."
Boos has a clear goal in mind and understands that there are multiple ways to reach it. She would love to make the Hotspurs roster, but hopes to play NCAA Division I soccer if that doesn't come to fruition.
"Once I'm a junior in high school, I'll be able to have contact with colleges," Boos said. "I want to play D-I soccer. It doesn't matter where."
Jennifer Boos, Kristin's mother, believes things will work out how they're supposed to.
"Whatever God's plan is for my kids, that's what will happen," she said. "I've home-schooled all six of my kids. I love to see how different they are individually. If (the tryout) works, great; if not, that's fine too.
"I'll be proud of her no matter what. She's a great person. We're super proud of her."
Boos, who has played on the U.S. Region II Olympic Development team for three years, said she's ready for the tryout, although she acknowledged that this will be the highest level she's played.
"I'm definitely prepared. I'm really excited," Boos said. "If I'm physically prepared, I know I'll be ready mentally."