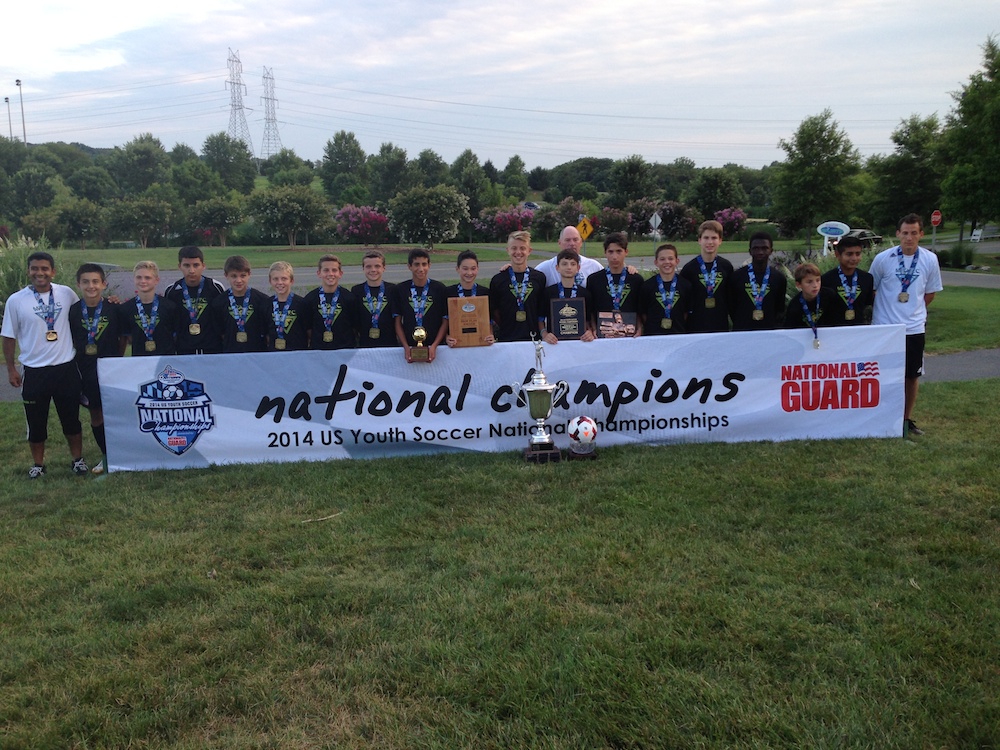 We, at MYSL, are so proud to have such a successful team at our League.
WAZA FC East 01 Juniors (MI) wins the Under-13 Boys National Championship
WAZA FC East 01 Juniors (MI) came into this final having not lost a game all the way back through US Youth Soccer Region II Championships and that momentum carried them through to Under-13 Boys National Championship match against FC Golden State PDA 01 (CA-S).
WAZA had been perfect in group stage scoring three goals and allowing none, setting up a chance to finish at the National Championships without a blemish on its record. Having already beat FC Golden State in group play 2-0, WAZA seemed confident from the get-go controlling possession and playing at a higher tempo than its opposition.
In just the 17th minute of play, Issa Rayyan broke through the Golden State defense and flicked a ball past an onrushing keeper to give WAZA a 1-0 advantage. WAZA continued knocking on the door hitting the post twice and missing a variety of other chances that could have increased its lead.
Late in the first half WAZA had another chance as Gianni Ferri stripped the ball away from a defender and got in on goal. Ferri's chance was wasted as his shot hit the outside of the post and harmlessly bounced away.Despite the pressure, Golden State withstood the WAZA onslaught for the rest of the second half and entered half trailing only by one goal.Ferri added an insurance goal just six minutes into the second half as he received a through ball in 1v1 vs the Golden State keeper Alfredo Tejeda. Tejeda made a huge save but the ball bounce back to Ferri and he calmly put the ball into the back of the net to make the score 2-0.
Golden State tried to push for a goal but the WAZA defense was relentless at getting to every loose ball first as their offensive teammates controlled possession. WAZA would hold on and claim the Under-13 Boys National Championship with a 2-0 win.
"We have worked so hard all year," said WAZA head coach Gronthik Chatterjee. "They are a very talented group of boys but it comes down to their hard work. They put in so many hours and they have great intelligence that was displayed on the field tonight.
"The hard work we put in, all the hours away from the game type situations where no one sees you in the gym, the extra practices and the effort put in by the parents to get them there has been great. To have this pay off with a National Championship, I couldn't be happier for my boys."